With so many unknown and turkey titles its great to find the nice diamonds in the rough. Mask Maker is no exception.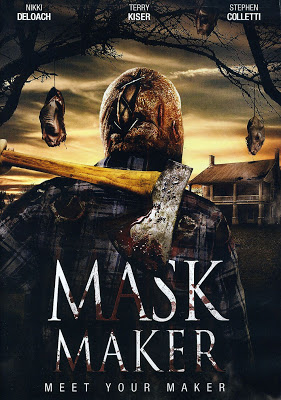 Mask Maker is about a young couple who buy an old farm house in hopes of flipping the property to make some money and finally get married. The more time they spend in the house, the more they find out about the homes tumultuous past. This film surprised me, I went into the film with low expectations and came out of it a believer.
The acting in this film was pretty good. Nikki Deloach does a great job with the leading lady role, she carries with film and really brought a genuine feel to the character. The rest of the cast does a good job as well. Every character seemed legit, and we all pretty likable. Veteran's Michael Berryman, Treat Williams, and Terry Kiser make appearances in the film and do great as usual.
The downfall of the film is the killer. Nothing special to talk about here, which is a rather big bummer. The films killer is like a cross between Jason and Leatherface, and his motives are about as generic as they come. I feel like with the story the film created the killer could have been a lot cooler. The only gripe have with this film is the killer, although he is slightly redeemed in the end. All in all too generic for me.
The films special effects are the strongest part of the film. The gore, and kills are impressive. I am not a fan of cg effects but it seemed the film used them in a moderate manner, and also mixed in great practical effects as well. The gorehounds will be happy with this modern slasher. We get stabbings, decapitations, skinnings, and a pretty sweet meat hooking…sort of.  The fans of T&A are surprisingly rewarded with some very nice booties, and a couple beautiful pairs too.
All in all the film was a pleasant surprise. Mask Maker serves up a rather by the numbers slasher flick with good acting. The biggest down fall of the film is unfortunately its killer but the gore and nudity make up for the lack of creativity. GLP gives this mediocre slasher a solid 3 out of 5 stabs for good story, acting, and gore. Check out this film on DVD.
https://www.youtube.com/watch?v=dwt4ekCqt2k
GLP Rating: