It seems like comedy and horror seem to be melding together a lot in recent years. Typically I am not much of a fan of the 2 genres together, but recently a slew of comedy slashers have been peeking their ugly little faces out of the proverbial horror vagina. Not to mention they have been good if not great combinations of the 2 genres. Bloody Bloody Bible Camp (BBBC) is no exception. This fallen angel of a flick will have you rolling with laughter and cringing with disgust simultaneously…and its totally fucking worth it
BBBC is low budget horror flick by Vito Trabucco and Shelby McIntyre. Basically without spoiling anything, BBBC is about a Bible Camp in 1977 that is decimated after a crazed killer in a nun costume picks off the campers one by one. 7 years later (1984) another church decides to chance the tainted camp and take some new campers out for a weekend of worship and love. But someone is lurking in the woods waiting for the right moment to unleash terror on the camps bible thumping occupants.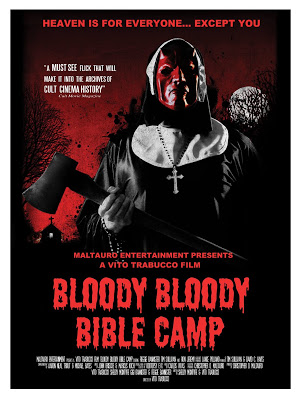 I really loved this movie, I laughed literally 75% of the movie. The comedy lines were well written by Vito and Shelby and the actors did a tremendous job of haming it up for the camera. If I had to describe the movie using other films it would be a combination of Friday the 13th and every 80's sex comedy. The movie works, it does its thing and is highly entertaining, it does have its flaws but they are mostly minor and I'll get to a few in a bit. I love that the movie is set in the 70's and 80's, you get a blast of lingo, style, and references that are sure to make any 70's and 80's horror/ film buff smile.
The film stars Reggie Banister of Phantasm fame, Ivet Corvea, Matthew Aidan, Jessica Sonneborn, Deborah Venegas, Christopher Raff and a few more. I think everyone did a great job in this film. Mattthew and Christopher were the stand outs for me, their little montage had me laughing hysterically. There is a surprise cameo from Mr. Long Dick himself, Ron Jeremy, that will leave you saying…what the fuck!?!
The special effects are great, there is a slew of awesome death scenes the will have may a gorehounds drooling at the mouth. You get some decaps, an axe to the vag, some nice stabbings, and a serious head crushing scene that you have to see to believe. The viewers also get a hefty does of skin and a sex scene in the beginning that will make you cry from laughing so hard.
As I said before this film is not without its faults. There are some editing mishaps, and the most tragic of the issues is the final 10 or so minutes. At a certain point the film goes from a happy meld of comedy-slash to completely over the top silliness that I could have done without. While it tries to redeem itself by finally laying out the killers story, (which had the view had been seeing glimpses of throughout the film) the overboard silliness really distracted from what could have been a great ending. However that still doesn't completely take away from the overall success of the film.
BBBC is a hilariously bloody romp through cliches of the church and one hell of a fun ride. The film legitimately succeeds in the first 3 acts but falls a bit short on the 4th. Regardless the film is a much watch in the horror community. GLP gives this slasherriffic horror-comedy a 4 out of 5 stabs for overall story, look, and gore. You can check it out on Amazon, there are a few DVD's available as well you can buy the digital copy there.
GLP Rating: