It takes a special person to be a surgeon. I would like to say I would do it just so I could cut open people…but needless to say, I would completely pussy out. Not to mention all the schooling you have to take…Anatomy is a bitch. I have however always thought what it must feel like to be a surgeon. After all the hard work, your pay off is saving lives. Not bad. But then you hear about bad plastic surgeons…Carpet being used for breast implants, unnecessary bones being broken during procedures. Sounds ghastly but it actually happens, look it up.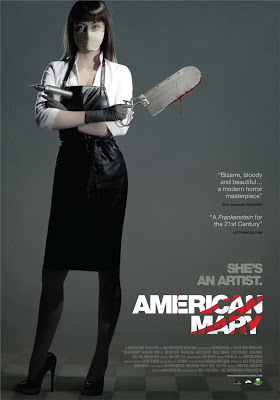 American Mary tells the story of what happens when a highly skilled surgical student is pushed too far. Mary, played by the gorgeous Katharine Isabelle, is a promising medical student looking to become a surgeon. She runs into some financial troubles and decides to do something drastic. In the process she is thrown in to the underbelly of plastic surgery and extreme body modification. Only to find out, she's more talented then she initially thought.
Basically, American Mary plays out like a Revenge flick, then turns upside down and back again. Written & Directed by The Soska Sisters (Jen & Sylvia) American Mary is a drastic leap forward from their last full-length effort "Dead Hooker In a Trunk". Better writing, direction, quality, and acting overall really help push American Mary where Dead Hooker could have been. Jen and Sylvia also make an appearance in the film as the twins.
The cast in the film did very well. I had no glaring issues with any of the acting, sans the Soska's German/Swedish accent, but in the end was not an issue since I myself could not have done any better. The films standout star is the beautiful Katharine Isabelle, whom I have had a soft spot for since Freddy V.S. Jason. Here character evolution though-out the film is amazing and very well received. The other stand out is the oddly lovable Beatress Johnson played by Tristan Risk. Her Betty Bop voice and all around sweetness makes her a very likable, and strange character in the film, adding a great deal of depth to the story and cast. American Mary also stars Antonio Cupo, David Lovgren, Paula Lindberg, Clay St. Thomas, and Twan Holliday. All did great jobs with their respective roles.
As far as gore, we don't get a lot, however when it is used it was done very well. Nothing looked face or overkilled, and there were no harsh CGI moments to make your skin crawl. As far as nudity the guys get some scantily clad ladies with plenty of innuendo, and a close-up of a boob being cut into by a surgical scalpel. The ladies get the underside of an infected penis….gross.
I was very surprised by American Mary, I was expecting the same kind of ride as Dead Hooker but got a sophisticated upgrade instead. I really like the film and even the ending which I didn't entirely see coming. The Soska Sisters are really fine-tuning their craft and as a result but out a tasteful thriller that is sure to do good things. GLP gives this medical lesson a solid 4 out of 5 stabs for great story, direction, and acting. To find out more about American Mary visit The Twisted Twins Webpage, as well as American Mary's Facebook page. American Mary is currently in select theater as well as many OnDemand providers.
GLP Rating: