The 80's, a plethora of VHS, Cassettes, Acid Washed Jeans, Leg Warmers and the Rubik's Cube. But the 80's also birthed the era of the slasher film! Slasher films in the 80's were literally a dime a dozen, while short lived, most left a mark with their viewers. I am a child of the late 80's (88' to be exact) so I had the opportunity to experience most of these things, although it wasn't until the 90's. Something about this time period for film and pop culture really stuck with me. So when it comes to watching new horror films I almost always feel like there is something missing (even if it is perfect). Now that I think about it, it's just the nostalgia of the films I grew up on, the setting, film grain, and 80's culture in general.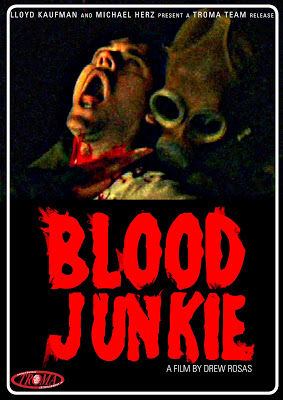 Blood Junkie (a.k.a Rocky Trails) is a film that captivated me. Upon hearing about the film I immediately got very excited. As most of you already know, I am a HUGE fan of the Slasher sub-genre, so seeing this film was a no brainer. When I finally got the chance to see it I was not disappointed at all.
The film is set in the glorious 80's, a group of teens set out the abandoned Rocky Trails Campground to have a weekend of drinking, sex and fun. However just beyond the old overgrown trails is a blood hungry maniac looking to eradicate all that enter his domain.
I had so much fun watching this movie. Director Drew Rosas did a magnificent job of recreating the 80's slasher style. The cinematography, film grain, original soundtrack, and costume design took me back to the days of watching the likes of The Nail Gun Massacre, and Night School on VHS in my childhood bedroom. With just the right amount of 80's cheese, and horror, this film delivered all the horror goodies!
This film was shot in Wisconsin for $7,000, and subsequently released by Troma Films. That to me is one reason this film is so great. The editing, special effects, and camera work make this film look like it has a budget of way more. The acting by Nick Sommer, Mike Johnson, Sarah Luther, and Emily Treolo was great, with just the right amount of bad! I can not begin to tell you how much I loved all of their performances. I will say that this movie will probably only work for hardcore genre buffs, most casual fans may pass this over if they don't have education in the area.
This film serves up all the best things from the 80's Slasher flicks. The cheese, gore, T&A, score, and more really take you back to a time when horror wasn't over thought, and delivered the most outlandish characters in the world. This film gets GLP's stamp of approval with 4 out of 5 stabs. If you would like to see this movie you can find it on Amazon.