I am a total sucker for the Slasher genre. Out of all the different incarnations of horror, slashers have somehow pierced their way into my soul and because of that I can't get enough. My favorite period for slasher films is the 80's, the golden era, but as a fan of the genre I have to watch just about everything that comes out. Generally with new slasher films I am left wanting more, or I am generally let down.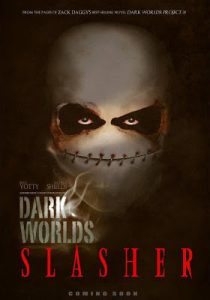 I found out about Dark Worlds: Slasher in a rather unusual way…my fiancée. This is unusual because she is not a fan of horror. I will drag her to conventions, make her sit though the latest remake, and then she will listen to me bitch about how bad is sucked and blah blah…usually with a smile or the glow of her cell phone. In this case she saw someone she knew at Days of The Dead in Indianapolis a couple of weeks ago, and that got the ball rolling. She spoke with the girl the next day, then the girl contacted me, and put me in contact with her cousin Zach Daggy. Zach is an internet dj, podcast host, and writer based out of my home state of Indiana. We talked on Facebook and Zach was kind enough to send me a digital copy of Dark Worlds: Slasher.
Dark Worlds: Slasher is a short film based a story in Zach Daggy's novel Dark Worlds: Project 31. Basically the film follows William Rosum (Beau Yotti) aka The Careview Slasher as he makes his latest kill and stalks his next victim Allison Smith (Michelle Shields) aka Snow White.
This film runs only about 20 minuets, which while short, it really delivers. With an interesting take on the slasher genre this short film will have you captivated. The film takes place mostly in the killer's head, hearing his thoughts on his killing style, victims, and society in general. The film has a lot of nice nods to the slasher genre mentioning Crystal Lake (Friday The 13th), and Elm Street ( A Nightmare on Elm Street) as well as offering a welcomed similarity to Behind The Mask: The Rise of Leslie Vernon.
The film is really shot well, the angles the director chose are very complimentary to the setting and feel of the short. I think the stand out of this film, for me, was the impressive dialog. With such a short time to connect with your characters, the dialog really helped establish the characters rather quickly and gave some back story to our very own Careview Slasher.
I will not give away what happens in this film but I will say that the final 7 minuets will have you saying "No Fucking Way". I really enjoyed this short and am looking forward to more stories to come from the Dark Worlds project. My only complaint is that I wish it was longer! GLP gives this local effort an impressive 4 out of 5 stabs for great dialog, cinematography, and premise. If you would like to check out this film, it is now available on DVD. Please take some time to check out more of Zach Daggy's work at his website here.View the trailer below.
GLP Rating: